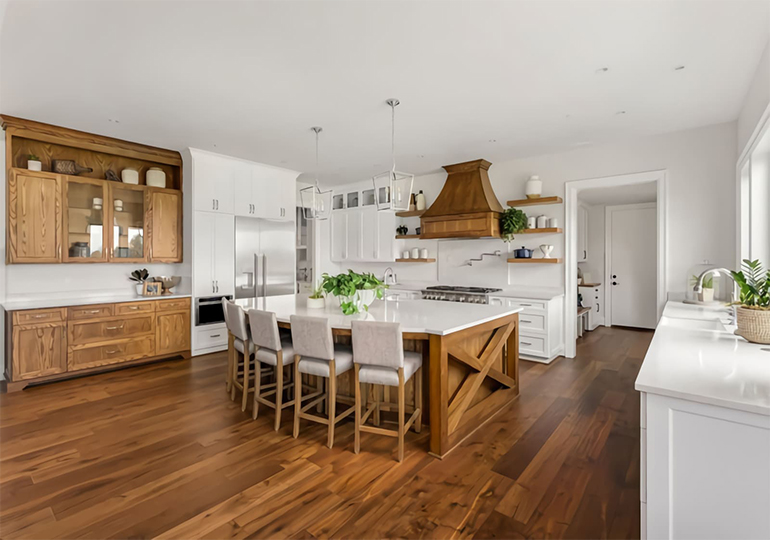 Hardwood Flooring
Hardwood flooring is perfect for any room in the house. Eisa Carpet & Flooring offers a full selection of hardwood floors at affordable prices in any design, color, or style you desire. There is no style limit to hardwood flooring, and what's better: it never needs updating, Whether you are looking for a floor that will add character to your home, or for a floor that will give your home an elegant look, you will always find what you are looking for. Visit our showroom and our associates will help you choose the right design for you home.
Engineered Wood Floors Are a Fantastic Alternative to Solid Wood Floors
Engineered wood is a gorgeous and natural material that is an alternative to hardwood. The many species of wood offer a wide range of beautiful shades and patterns. It is much less expensive than hardwood, and when finished, it is nearly impossible to tell the difference.
Engineered wood flooring offers many benefits over solid hardwood flooring. It is much less expensive than solid hardwood. When finished, it is nearly impossible to tell the difference between an engineered wood floor and solid hardwood.
Unlike solid wood floors that can be negatively affected by temperature and humidity, engineered wood will not endure the same problems, as it has been manufactured to handle all different climates. Like any wood, it will experience wear over time but can be refinished when necessary.
We offer a wide selection of colors and styles to choose from that will include an option you will love. Engineered wood is not the same as laminate — this product is of far greater quality with a finish that causes it to look like real wood, not a simulation. We offer high-quality hardwood in a wide range of colors and styles. We invite you to visit our showroom to find the one that suits you.
Benefits of Hardwood Flooring
Enhance the Look of Your Home.

Low Maintenance & Easy to Clean.

Long-Lasting & Cost-Effective.

Strong & Durable.

We provide hardwood products of the highest quality and longevity.